Welcome to Murrieta Valley Athletics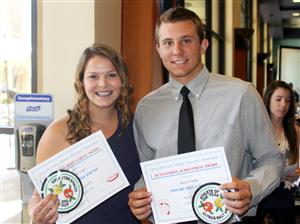 Congratulations to Kevin Padlo and Paige Virgil our Senior Athletes of the Year!!!
Boys Soccer:
Monday September 8, 6:00-8:30
Tuesday September 9, 3:00-5:00
Thursday September 11, 6:00-8:00
To try out for a sport at MVHS you must have turned in a completed athletic handbook complete with physical OR submit a Try out form.
Please click below for forms:
To access game schedules and directions for all sports, go to
Highschoolsports.net
enter Murrieta Valley High School and follow the instructions to find your schedule. For MVHS Sports Articles and Pictures click here!
Welcome to Nighthawk athletics where tradition and excellence come together on the playing fields and in the classroom. Nighthawk athletic teams have a long and storied tradition in
Southwest
Riverside
County
. In our brief history MVHS athletic teams have won over 100 league championships. The Nighthawks can also boast of 28 CIF championship game appearances, with 20 CIF championships. Our athletes and coaches continue to work hard at making Nighthawk athletics one of the premier programs in the Temecula/Murrieta area.
Murrieta Valley High School competes in 22 sports with over 47 teams competing at the Varsity, Junior Varsity and freshmen level. Participation in MVHS athletics means more than competition between individuals or teams representing different high schools. It teaches fair play and sportsmanship, and understanding and appreciation of teamwork. The legacy of our athletic program will be measured by more than wins and losses, but more by the experience our athletes receive.
Participation on a Nighthawk athletic team is a privilege that is extended to every student who is eligible under regulations set forth by the California Interscholastic Federation, the MVUSD, and Murrieta Valley High School. The conduct of a nighthawk athlete is closely observed on campus as well as in the community. It is important that a Nighthawk athlete conduct themselves at all times and places with class and dignity.
On behalf of the athletic department, I welcome you to the challenge of Nighthawk Athletics. I hope your experience is both a positive and rewarding one.
Sincerely,
Darin Mott
Nighthawk Athletic Director
Darin Mott Karee Mason
MVHS Athletic Director Athletics Secretary