Welcome to Vista Murrieta Wrestling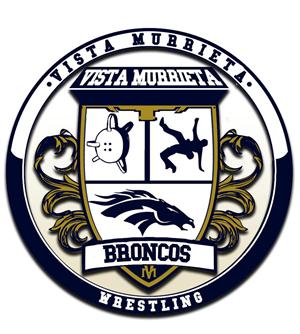 Head Coach: Jeremy Jarrett
Assistant Head Coach:
Malcolm Clark
Assistant Coach: Mark Perryman
Assistant Coach: Justin Perryman
Assistant Coach/JV Head:
Chad MacDonald
Head Freshman Coach
: Zack Paterson
Freshman Assistant Coach: Bryan Gonzalez
Freshman Assistant Coach: Joel Kreuger
Head

Parent Coordinator: Davene Franklin
Instagram: broncoswrestling
Remind101: wrestlers - text @coachjar to 971-264-2766
parents - text @021491 to 971-264-2766
Remind101 for Frosh:
text @froshwp to 760-712-3339
(Updated in a few weeks) Practice Schedule and important dates for Varsity/JV
(Updated in a few weeks) Frosh/1st Year Wrestler Practice schedule
Take a look at the
Key dates
for upcoming deadlines for the season.
Please print out, read thoroughly, and sign and return to Coach Jarrett, the parent signature page acknowledging that you have
read, understand, and agree to abide by the rules, regulations, and administrative guidelines contained in the forms listed on the parent signature page.Wrestling Parent Signature Page
Dear Parents and Wrestlers,
Welcome to the beginning of the 2013-2014 wrestling season. This past season we had a tough year of rebuilding after graduating our school's second and third state qualifiers, our second CIF champion, our first CIF MVP, 3 league champs, 3 CIF finalists, and a 3 time CIF placer. We had 3 sophomores qualify for the CIF tournament, which is the largest group of underclassmen in school history. We had a very young group of wrestlers starting on the varsity lineup, including 5 sophomores and 1 freshman, with only 4 seniors anchoring the lineup. This youth showed promise that great things are coming our way. This off-season has been very productive with several members of the team competing in our youth club (Bronco Kids Wrestling Club, "BKWC") and wrestling numerous off-season tournaments, with dozens of medals already in hand. The Bronco program has been fortunate in the past and had the support of parents and the community, and I ask for your continued support this season. As the head coach, it is my job to ensure that the Bronco wrestling program instills discipline, character, sportsmanship, and responsibility in every wrestler. My job isn't just to produce great wrestlers, but to produce great young men and women that will be successful in life. A big part of the Vista Murrieta experience is learning to do everything with CLASS and the wrestling program prides itself on that philosophy. We will win with CLASS and if we shall lose, we will do it with CLASS. I look forward to meeting all of you at our home matches this season. GO BRONCOS!
Coach Jarrett

The Varsity wrestling team's annual 22 mile hike, 4600ft elevation climb to Santiago Peak is in mid November. The varsity wrestlers will be carrying a 5.5ft long, 50lb log on an 11 mile journey to the top, and 11 miles back down the mountain. The 11 mile hike up will take just under 5 hours and then less than 3 hours for the 11 mile trip down. All varsity wrestlers will finish the hike, pushing through minor injuries, aches, pains, and severe fatigue to start their trek climbing the mountain to the school's first wrestling league championship.

Mouse over the pics below for info from last years hike.

Check the wrestling files link for paperwork, schedules, and fundraising opportunities.