Welcome to Vista Murrieta Wrestling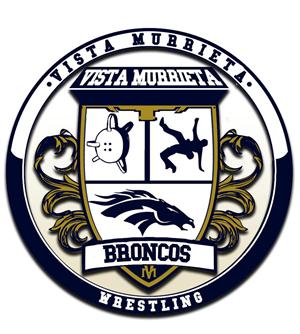 Head Coach
: Jeremy Jarrett
Assistant Head Coach
:Malcolm Clark
Assistant Coach
: Mark Perryman
Assistant Coach
: Justin Perryman
Assistant Coach/JV Head
: Chad MacDonald
Head Freshman Coach
: Zack Paterson
Freshman Assistant Coach
: Joel Krueger
Freshman Assistant Coach
: Bryan Gonzalez
Head Parent Coordinator
: Davene Franklin
Email
: jjarrett@murrieta.k12.ca.us
Email
: Paterson - zpat_65@hotmail.com
Phone
: 951-894-5750 ext 6738
Facebook: https://www.facebook.com/#!/BroncoWrestling
Instagram: broncoswrestling
Remind: Wrestlers - (971) 264-2766 text @coachjar
Remind: parents - (971) 264-2766 text @031515
Remind: frosh/1st yr wrestlers (760) 712-3339 text @froshwp
The
body fat/hydration test
is this
Wed, Nov 12 at 3pm
in the boys locker room. Bring $10 cash and make sure you are hydrated, but not overly hydrated for the test. The CIF Assesor will have all required forms.
The
Parent Signature Page
is due by the first day of practice. You may not practice until a parent/guardian has signed the form and it has been returned to Coach Jarrett.
Check the Bronco Wrestling store for spirit pack purchases.