Welcome to Vista Murrieta Wrestling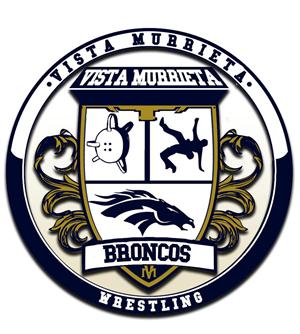 Head Coach
: Jeremy Jarrett
Assistant Head Coach
:Malcolm Clark
Assistant Coach
: Justin Perryman
Assistant Coach/JV Head
: Chad MacDonald
Head Freshman Coach
: Zack Paterson
Freshman Assistant Coach from New Mexico
: Joel Krueger
Email
: jjarrett@murrieta.k12.ca.us
Email
: Paterson - zpat_65@hotmail.com
Phone
: 951-894-5750 ext 6738
Sign ups for boys and girls wrestling will take place Thur Aug 27-Tue Sept 1. Come by Coach Jarrett's class, SS16, to sign up and get important information.
Facebook: https://www.facebook.com/#!/BroncoWrestling
Instagram: broncoswrestling
Remind: Wrestlers - (971) 264-2766 text @coachjar
Remind: parents - (971) 264-2766 text @031515
Remind: frosh/1st yr wrestlers (760) 712-3339 text @froshwp
(updated soon) Practice schedule TBD
(updated soon) Practice Schedule TBD
The
Parent Signature Page
is due by the first day of practice. You may not practice until a parent/guardian has signed the form and it has been returned to Coach Jarrett.