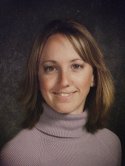 I am thrilled to be teaching at Monte Vista and I look forward to a great year with our
class! This is my tenth year teaching and I've been here at Monte Vista since it opened
its doors. I earned my B.A. in Liberal Studies and Multiple Subject Credential from
Cal Poly, San Luis Obispo.
I enjoy the rewards and challenges of teaching and always love learning new things in the process. I hope to instill that love of learning in my students. In addition to inspiring a love of learning, I strive to get the kids thinking independently, to become organized with their study skills and of course to have fun along the way!
My family enjoys being together and going on afternoon walks. My family includes my husband, our 3 year old son Nathan, a brand new little girl named Jocelyn, a 10 year old cat named Mama and a 5 year old black lab mix named Huey. I look forward to working with you and your child and I'm confident we'll have a great year in 2nd Grade! Miss Ritchie will be my long-term substitute while I'm on Maternity Leave until early October 2012. She's awesome and she will certainly get the class off to a great start!!
**Be sure to check out all the goodies in the LEFT MARGIN of this page-especially the Links.