FAMILY SERVICES
Offering School Age Student Enrichment and Extended Day, Child Development Programs & Parent Education programs.

Student Enrichment and Extended Day (SEED)
The following is a brief summary of SEED. Complete details regarding the program are contained in the SEED Manual and Contract. Parents are encouraged to refer to the Manual and Contract for information regarding the rules and conditions governing enrollment in the SEED Program.
The SEED Program was established in 1982 to meet the need for before and after school child care for students who are enrolled in the Murrieta Valley Unified School District. The SEED program is currently offered at each of the district's elementary schools.
SEED sites are staffed by district employees with an adult to student ratio of 2:28. All employees have received First Aid, CPR training and receive regular staff development. Subsidized care is available at Avaxat and E Hale Curran Elementary. For subsidized service contact Michelle De La Rosa, (951) 304-1623 ext. 2166.
Direct questions to: Angie Williamson, SEED Supervisor (951) 304-1623 ext 2169
School Readiness Programs Recipient of a California School Board Association Golden Bell Award in Early Childhood Education!
Family Services offers two school readiness programs. The State Preschool Program is available for children of families who meet the State Preschool income eligibility guidelines. Kindergarten Readiness is a parent pay program for families who exceed State Preschool income qualifications. Both School Readiness programs are 3 hours per day, five days per week, 180 days per year ( MVUSD school calendar). Class hours vary per school site. The Kindergarten Readiness program at E Hale Curran and Lisa J Mails has extended day hours available,7:30 am- 5:00 pm. Family Services School Readiness programs provide a rich child developmentally appropriate learning environment.
Direct questions to: Kathleen Israelsen, Family Services Supervisor (951) 304-1623 ext. 2183
Child Development Center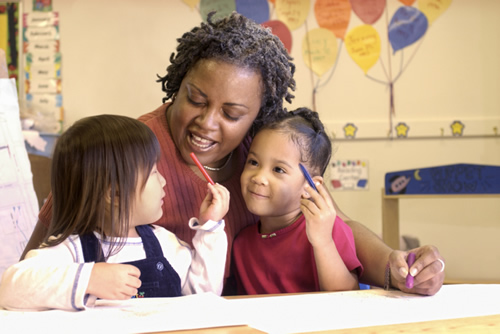 A full day, full year child developmentally appropriate program for children 30-60 months is available at the Child Development Center, 24300 Las Brisas Road, North, Murrieta. Families must meet State income and need eligibility requirements.
Parent Center
1996 American School Board Journal Magna Award Recipient - recognizing outstanding programs in school governance.
The Murrieta Valley Unified School District Parent Center offers a number of low or no cost parenting programs, classes and a library with books, videos, audios and phamplets on parenting, child development and other specialty topics. The Parent Center mission is to provide high quality educational support services to parents, professionals, and community members living and working in Southwest Riverside County. Basic and advanced parenting classes are available and child care is available during some classes.
View approved flyers at