Welcome to the
Lisa J. Mails Elementary
School Library
******************************************************************
Do you have a Murrieta Public Library library card? Click below for an application!
Fill it out and have a parent/guardian take it to the library.
There are some wonderful books and resources at the library

as well as fun reading programs!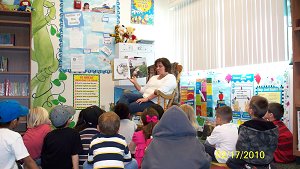 Mrs. Payne reading to students in the library. She loves reading!
Our school library is still growing! We currently have over
20,000 books thanks in large part to the generous donations of other schools in the district and our great students and parents.
However, we always need and accept
donations of new or "gently used" books for all reading levels. Students are excited watching the library shelves fill up. New titles and additions to series' are appreciated as well.
See Mrs. Payne in the library for specific titles or authors that our students have requested, or check our Wish List page. We also have a new blog page. Take a look at it too for announcements, or just to see what Mrs. Payne is reading this week.
Students visit the library once a week with their classroom teacher. They are currently allowed to check out 2 books. All students must return their books before another book can be checked out. Lost or damaged books must be paid for (in cash only) or replaced with a like title. Please help your student keep their library books in a safe place if they bring their book home. Providing a large baggie to put their book in will help keep them dry if it is raining or water bottle or juice box leaks in their backpack.
Our library hours are Monday through Friday 8:00 am to 2:45 pm. Students may come in before school and after school to return books and check out new ones. Students may come in during lunch or recess only if another class is not using the library and if they have a note from their teacher. Student and Parent helpers are always appreciated to shelve books and keep our library looking its best. Check in with Mrs. Payne if you'd like to help.

Student Reminders
Remember your library book on your library day to check out another one, or to renew your book one more time.
Remember your library manners: quiet voices, use the shelf marker, be courteous and respectful of each other and of library materials.
Mrs. Payne would really like to hear from students about their favorite authors, books, illustrators, book series, etc. She also challenges you to read different genres (types of books). A challenge form is on the front library counter. Complete it and turn it in to Mrs. Payne for a challenge prize.
See below for some online reading fun!

Library Links