Class of 2017
Mr. Vandenburgh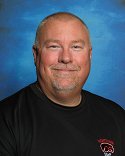 Phone: 696-1408 ext. 5289
Senior News
You are Seniors!!! Class of 2017... you Rock!
---
---
*We will be working on your 4-Year Plan in I.C.T. / Careers and reviewing in your yearly Guidance Lessons... take time to plan!!!
---
---
---
---
*Remember the testing requirements.
CSU - You must submit SAT reasoning or ACT scores.
UC - You must submit the ACT plus Writing or SAT reasoning test. (SAT subject tests are no longer required, some majors may recommend them)
---
---
---
---
---