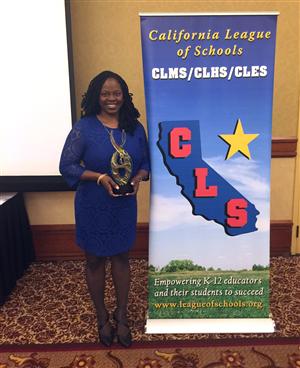 Vista Murrieta High School Counselor Shonda Burrus was selected as the California State Educator of the Year by the California League of Schools at their Annual Conference in Sacramento on February 26.
Burrus started her career in the district in 2003 when she was hired to be Pam Wilson's secretary at Vista Murrieta High School when the school opened. Wilson, who is now the district's Assistant Superintendent of Educational Services, said, "From the beginning Shonda had an unrelenting desire to impact the lives of the young people she encountered."
In addition to being Wilson's secretary, Burrus coached girls' basketball for 12 years. While working full time, coaching basketball and mentoring students, Burrus earned her Bachelor's, Master's and Pupil and Personnel Services Credential at Azusa Pacific University.
Concerned about the suspensions, dress-code violations, and negative interactions between African American girls and faculty and staff, Burrus started Vista's Black Coal and Roses Society for African American girls on campus, encouraging them to make healthy lifestyle choices, set high expectations for themselves and become women of strong moral principles and character.
When the school data showed that African American males were underachieving and under-represented in advanced college prep courses and over-represented in suspension/detention rates and lack of proficiency on state assessments, Burrus started the Young Gentlemen's Leadership Club. Last year about 100 African American young men attended four forums where they were mentored by thirty-five African American men who are managers, business owners, church leaders, first responders and dads.
Susperintendent Pat Kelley recently recognized Burrus at a school board meeting, telling her, "As a direct result of your efforts there have been countless positive outcomes for one of our most at-risk student populations. We have seen improvement in their grades, in their involvement in school and in the future direction of their lives. Your unwavering belief and commitment to ensure their success has had a profound, life-altering impact on their lives."