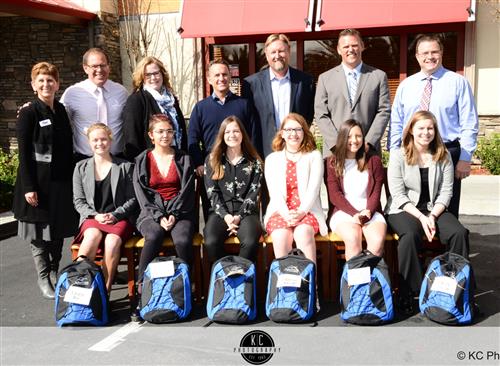 On March 16, 2017, the Murrieta Chamber of Commerce High School Student of the Month Program was held and the students shown in the attached photo were recognized. Shown sitting left to right are: Austin Combs, Damaris Leano, Roxanne Bolanos, Tatum Mann and Ryley Collom.
Standing from left to right are: Margaret Jones, SOM Chair; Jonathan Ingram, Murrieta Mayor Pro Tem; John Hunneman representing Senator Jeff Stone; Katelyn Blackmer representing Assemblywoman Melissa Melendez; Brenda Dennstedt representing Congressman Ken Calvert; Kris Thomasian, MVUSD School Board member and Andy Morris, Murrieta Chamber of Commerce CEO. Photo credit: Kip A. Cothran.
Click here to see more photos.
Vista Murrieta High School Senior Damaris Leano is an outstanding student who maintains a 4.4 GPA and is ranked 11th in her class of 836. Damaris has been in the AVID program throughout middle school and high school. Demaris has challenged herself by taking 12 Dual Enrollment and Advanced Placement classes and she has earned the AP Scholar designation. She gives back to her community by being an AVID tutor, mentoring younger students at the City's Youth Center and serving on the Youth Advisory Committee. Damaris is determined to make things better for others. She plans to go to the University of Colorado to earn a Master's degree in business and someday start her own non-profit organization.
Murrieta Mesa High School Senior Tatum Mann is an outstanding student who has taken a rigorous schedule including five AP classes. She has been involved in USB four years, serving as USB President this year. She is a representative to the School Board and City Council. Tatum is CSF President and Vice President of the GIFT foundation, which sends gifts to underprivileged children around the world. As a member of the Interact Club, Tatum went to RYLA, Rotary's Youth Leadership camp and she served as a counselor at RYLA's middle school Pride camp. Tatum is described as being one of the nicest, most unassuming and respectful students on campus and she is passionate about doing what is right. Tatum has had a positive impact on her classmates and teachers and she has helped create a positive school culture. Tatum plans to go to Xavier University in Cincinnati Ohio where she will major in political science and languages.
Murrieta Valley High School Senior Austin Combs is described as enthusiastic, charismatic, upbeat and driven. He has been a member of the Mock Trial team for four years, serving as Captain of the team this year. He is also Captain of the Lacrosse team and Vice President of the Senior Class. As a freshman, Austin was determined to leave his mark on his school and he has done that through his leadership, integrity and involvement in school activities. One of Austin's best characteristics is his genuine smile and his friendly, caring nature. Austin has been accepted to Arizona State University and the University of Hawaii. Wherever he chooses to go to college, he will major in business and he would like to be a financial adviser.
Murrieta Canyon Academy Senior Roxanne Bolanos has made a turn-around since entering Murrieta Canyon. In her Freshman and Sophomore years, Roxanne went through a tough time dealing with her Type 1 diabetes and anxiety. After she entered Murrieta Canyon, she was able to get back on track and overcome the obstacles in her life. Roxanne made up an entire year of credits in one semester and she is on track to graduate and go to college. Roxanne enjoys giving back to the community and she tutors and mentors other students. After high school she plans to enroll in Mt. San Jacinto Community College and major in criminal justice. Roxanne is interested in being a police officer or a parole officer so she can help people who are trying to overcome obstacles and struggles like she has had to do.
Calvary Christian High School Senior Ryley Collom is an amazing young man who maintains a 4.0 GPA while taking nine AP classes and being involved in National Honor Society, leadership, athletics and serving at his church. Ryley has been on the varsity basketball team for four years, serving as Captain of the team for two years. He is described as driven, dedicated, mature and focused and he is highly respected by his peers and teammates. Riley said he has learned the importance of demonstrating integrity in everything he does. Riley will attend California Baptist University where he plans to major in journalism and pursue his passion for sports by becoming a sports writer.
If you wish to learn more about the Student of the Month Program, please contact Sally A. Myers, Founder at (951) 506-8024. If you are interested in sponsoring the Student of the Month program, please contact Margaret D. Jones, Chair of the Murrieta Student of the Month Program at (951) 677-4856.