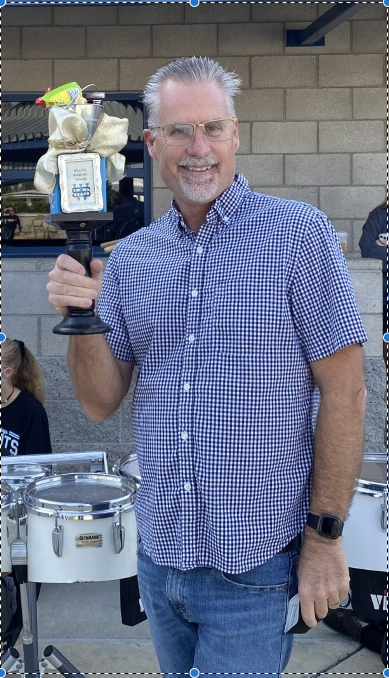 Phone:
Email:
Degrees and Certifications:
Bachelor of Arts, Music 1995 Master of Science, Education 2009 Doctor of Education, Educational Leadership (Music) 2014
Dr.

Thomas Garvin

Starting year 28th, his instructional opportunities are based on positive self-efficacy within a mentorship and leadership-based environment ranging from elementary through secondary levels of music education integrating sequential learning and professional growth for all stakeholders.

Specifically, in the Murrieta Valley Unified School District, he developed the curriculum and facilitated the openings of Lisa J. Mails Elementary School, Dorothy McElhinney Middle School, and Murrieta Mesa High School. At Murrieta Mesa High School, he was Department Chair and awarded Teacher of the Year.

His tenure also included instruction at Thompson Middle School and interim Band Director at Warm Springs Middle School. While there, he was awarded staff member of the month.

Currently, he is an MVUSD District Music Teacher on Special Assignment. His instruction includes: 4th-grade Recorders, 3rd-5th grade Elementary Choirs, and Music Connections classes, when available.
2022 - 2023 Dr. Garvin's

3rd - 5th Choir Sign-ups!

Fall / Spring 3rd - 5th Grade Choirs.

Sign-up information is posted below.

Fall Only

Alta Murrieta Elementary Afterschool - Tuesday's (Class is Full!)

Tovashal Elementary Before School - Thursday's (Class is Full!)

Murrieta Elementary Before School - Friday's (Class is Full!)

Spring Only

Rail Ranch Elementary Before School - Monday's (Starts 1/23)

For choir sign-up CLICK HERE

24 signed-up (12/2)

Axaxat Elementary Before School - Thursday's (Starts 1/26)

47 signed-up - (Class is Full!)

Buchanan Before School - Friday's (Starts 1/20)

52 signed-up - (Class is Full!)

** Spring Concert Performance Selections**

America The Beautiful

Simple Gifts

The Water Is Wide

De Colores

Lean On Me

Dream Big (New!)

** Song selections subject to change **

"CLICK HERE" link to join and for specific information!

(Reaching Capacity - Warning )

-- Link will close at 45, Max Class is 50.--

Please note, specific final performance dates may be adjusted due to

MPR availability and other factors. The day of the week will not change.

Please email for consideration and wait list if your class link is closed.

Thank You For Supporting The Arts!
To Enter the Selected Flip Recorder / Choir and Music Connections

(Video Lessons) Below:

Scroll Down and Find Your Group and Song

Click the "Video Lessons" button.

Enter your MVUSD email and password.

or

* *

Microsoft Canvas # and password will also work

* *

* * *

"Join with G

oogle"

and

"Join with Apple"

are not available.

Music Connections

join code enter: garvin5121 if needed.

Recorders join code enter: garvin7430 if needed.

If the topics do not show up, try refreshing your screen.
What is the MVUSD Recorder Program?

The Recorder Program provides all 4th graders an

opportunity to experience playing a musical instrument,

beginning music theory, team work,

music

appreciation, performance practice, assessment, pacing,

goal setting, introduction to instrument families, small and large

group skills, band approaches, and future opportunities.

* * New Original Beg Recorder Music in 2023! - It's going to be awesome . . . * *
What is the Honors

Recorder Program?

The Honors Recorder Program provides interested

4th graders an

opportunity to experience

advancing musical lessons and performance.

The first step is to sign up, available in their classroom

and receive the audition music.

Second, students must prepare the audition music.

During the first class, student progress will be checked.

This ensures all Honors Students are at the same level.

All instruction is during the school day.

It will conclude with an

amazing performance!

This is an optional pull out activity.

Additional Original Music will be composed for this program!

Honors Playing Tips Video Now Available On The Recorder Flipgrid!
What are Music and Choir Connections?

Providing adaptive, student-centered, sequential,

curriculum-based,

musical education that utilizes singing, movements,

rhythms, music creation, and understanding for all students.

Successful outcomes include opportunities for

performance,

mentorship, assessment, positive self-awareness, providing connections

across diverse learning populations, and goal achievement.
Dr. Garvin's Program Curriculum Benchmarks