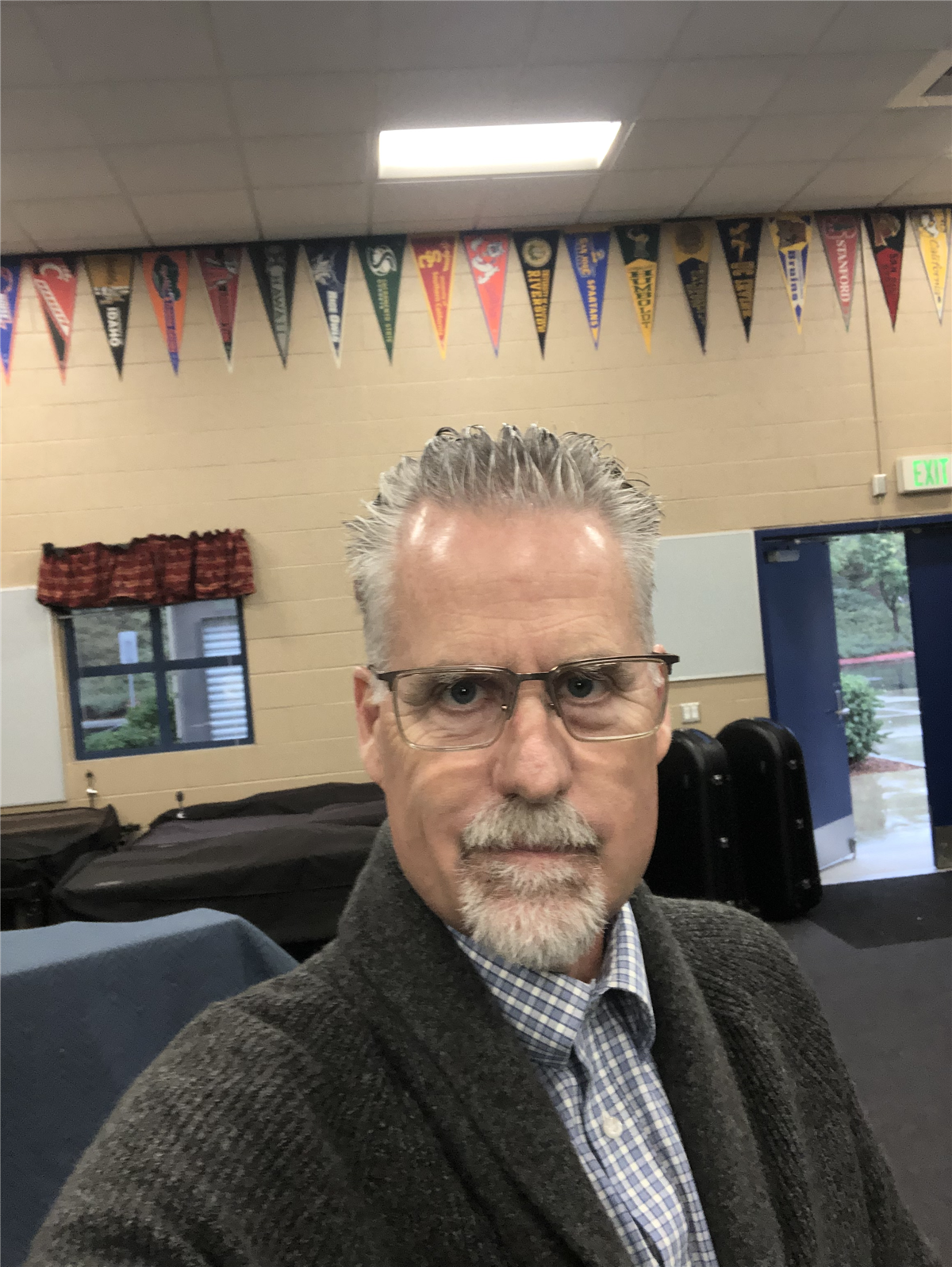 Phone: Please use email for communication.
Email:
Degrees and Certifications:
On-Line Office Hours: T/Th 9am - 11am. I will check throughout the week for emails.
Dr.

Thomas Garvin

For the past 25 years, instructional opportunities, based on positive self-efficacy within a mentorship / leadership environment ranging from High School, Middle School, and Elementary levels of music education provide sequential learning, and professional growth.

Specifically, in the Murrieta Valley Unified School District, he developed curriculum and facilitated the opening of Lisa J. Mails Elementary School (Recorder, Band, Strings), Dorothy McElhinney Middle School (Band, Strings), and Murrieta Mesa High School (Band, Orchestra, Jazz Band, Percussion Ensemble, Guitar, Choir, Musical Pit Orchestra). At Murrieta Mesa High School, he was Department Chair and awarded Teacher of the Year. His tenure also included instruction at Thompson Middle School (Band, Color Guard).

Currently, as Teacher on Special Assignment, Dr. Garvin works with 3rd-5th grade Choir programs (Harmony!), supports MVUSD's 3rd-4th grade recorder programs, and Pre-School-3rd grade music at local sites. In addition, he collaborates with educators towards a unified (Legato) 6th-12th grade / adult transition music program within SDC/MOD populations. Local conversations (Music Connections) aims to connect Standards-Based Music Instruction, American Orff-Schulwerk techniques, local classroom goals and curriculum, positive self-awareness and mentorship, within performance-based opportunities, throughout local stakeholders.

Look for fun stories, musical thoughts, and activities directly below in Dr. Garvin's Podcast: Hello From Home! Full Downloads seem to work best. Questions or suggestions for Podcast? Please email me!
General Program Information

Harmony! (3rd - 5th Grade Choir) Legato (Middle School - Adult Transition SDC Choir)

Reinforcing Beginning Physical and Vocal Techniques with Performance Practice.
Refining Performance Selections.
Intro Kodaly Solfege (Do, Re, Mi) with singing rounds.
Multiple styles of performance songs.
Refining advancing vocal up.
Working on additional performance / seasonal songs.
Turning back in Permission Slips.
Site based and community performances.

Recorders (3rd - 4th Grade)

Foundational music writing at start of program, and throughout.

Proper air, articulation, D E F G A B C D notes, and perfecting performance sounds!
Rhythm exercises with counting, clapping, and other sounds (How it comes together)
In class showcases presenting music (How we detail / evaluate)
Refining Performance Selections (How we sound)
Refining Performance Practice (How we perform)
Continuation of Music Connections curriculum.

Music Connections (Grade Level Specific / Cross-curricular / State Music Standards)

Musical stories developing with musical whole, half, quarter notes.
Foundational music writing.
Reinforcing first vocal tones, movements, and styles with class curriculum.
Developing and exploration of rhythms by grade level.
Refining Performance Selections
Refining advancing vocal warm up.
Working on additional performance / seasonal songs.
Percussion Level 1 Program
Percussion Level 2 Program

Music Grid System (New in 2020)

State Standards-Based instruction.
Reinforcing first music writing and early song form.
Developing and supporting Music Connections

program.

Using alternate symbols and easy to understand pre-music connections.
Aligns with current class instruction and standards.
Permission Slips / Newsletters