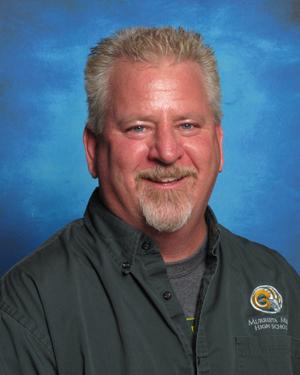 Phone: 951-677-0568 x 6105
Email:
Degrees and Certifications:
BS in Biological Science Teaching Credential from Ohio State University MA in Education from the Chapman University
Peter Matus

Hello Engineers and Parents
Welcome to Ram Engineering, Rambotics, and Our Sustainable Future.

Engineering x 6156 Rambotics/ Our Sustainable Future

I started teaching in Murrieta Valley School District in July of 1991, starting with seventh and eight grade sciences at Shivela Middle School. For 15 years I taught at Murrieta Valley High School, I developed the Murrieta Institute of Technology (MIT), at Murrieta Valley and the Pathway to Environmental Technology and Engineering at Murrieta Mesa.


I believe that learning through observation and scientific study allows students to develop their own understanding and knowledge through hands-on experiences, discovery and reflection. Students keep a daily journal with their assignments, procedures, sketches and everything they do in class and he encourages them to reflect on what they have learned.

My students have participated in the Solar Cub/Solar Boat Contest which gives them hands-on experience in solar, mechanical and electrical engineering and water conservation. In addition my students built a Single Operated Solar Vehicle and a charging station.

My ultimate goal is for my students to problem-solve, overcome obstacles and find solutions. I want them to develop creativity and insight into the learning process that will carry them throughout their lives. I want to make them into lifelong learners who question, explore and challenge.
Last Modified on February 8, 2017