Return to Headlines
VMHS Band Marching Band takes 1st at BOA Regionals, 14th at Grand Nationals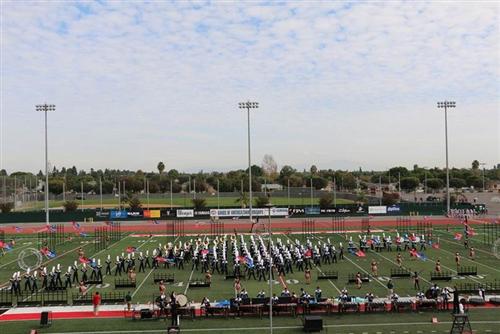 The awards keep coming for Vista Murrieta High School's marching band, capping off what has been a very exciting year. In mid-December Dale Warren, of the John Philip Sousa Foundation, notified band director Donald Wade that Vista Murrieta will receive the 2016 Sudler Shield Award, an international award recognizing standards of world class excellence for marching bands, high school, youth, and international marching bands. The award will be presented at a special ceremony in the spring.
Only 75 bands from around the world have received the award which is the equivalent of an international lifetime achievement award. Vista Murrieta is the third band from California to receive the award following Clovis High School in 1988 and Fred C. Beyer High School in 1993.
The highlight of the year for Vista Murrieta High School's Marching Band and Color Guard was competing in the Bands of America Grand National Championships at Lucas Oil Stadium in Indianapolis against 100 of the finest bands in the nation. The band made it to the semi-finals and missed making it to the finals by less than one point. Overall they placed 14
th
in the nation.
See video of their semi-final performance.
At the Grand National Championships, Vista was one of the only bands to receive the Al Castronovo Memorial Esprit de Corps Award for the second time. The band first received the award at the Grand National Championships in 2008. The award recognizes the band that best exemplifies pride, spirit, enthusiasm, friendliness, and unity of purpose. Wade said, "What made this year special, was that for the first time since 1980, Al Castronovo's family was at the competition and his son personally presented the award to our drum majors! It was a very special moment."
"We couldn't be more proud of how the kids performed both on and off of the field," said Wade. "We constantly received compliments on how well-behaved and polite our students were from bus drivers, airport security and staff, aircrew, hotel staff, waiters and waitresses, other bands' parents, and competition event staff."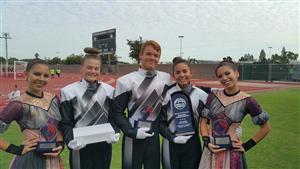 The band qualified for the Grand Nationals by winning first place at the Bands Of America Regional Championships on October 29 in Long Beach. They also picked up awards for Outstanding Music Performance, Outstanding Visual Performance and Outstanding General Effect. With the second highest music score in the country, that placed VMHS in the top 1% of 19,000 marching bands in the entire country this season.
Wade said, "While it is our band kids out on the field performing, our success is a culmination of support from one of the best parent booster clubs anywhere, our school and school administration, district administration, and our community as a whole! It was a great feeling knowing that there were friends and family cheering us on back at home!"