Return to Headlines
Murrieta Mesa is AVID National Demonstration School
Murrieta Mesa held a special celebration on February 28, 2017, to celebrate becoming an AVID National Demonstration School.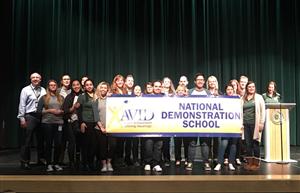 AVID (Advancement Via Individual Determination) is a college-readiness system designed to narrow the achievement gap between the lowest- and highest-performing students and increase the number of students who enroll in four-year colleges.
Attaining this designation places Murrieta Mesa in the top 3 percent of approximately 5,600 AVID schools in 44 states, the District of Columbia, 16 countries and U.S. territories. Murrieta Mesa will now serve as a model to other schools interested in implementing or expanding the AVID college preparation program.
Murrieta Mesa Principal Steve Ellis. "It has taken three and half years of hard work and dedication on the part of students, staff, and parents to move from being a school that does AVID to becoming the model of AVID and earning the designation of AVID National Demonstration School."
Murrieta Mesa and MVUSD AVID Coordinator Denise Guzman stated "I am extremely proud of our students and staff. When we see kids entering high school unsure of future plans who end up in college with a clear direction because of the support and structure AVID provides, I know we are changing lives."
AVID Demonstration schools undergo a rigorous validation process and are required to be revalidated every few years to ensure high levels of implementation, with quality and fidelity to AVID strategies school-wide.
"This is a great honor for the Murrieta Mesa community and for our school district," said Murrieta Valley Unified School District Superintendent Pat Kelley said. "This distinction showcases the outstanding work being done on behalf of our students."