Return to Headlines
Teachers are Heroes Award Presented to Chris Passafume
Teachers are Heroes Award Presented to Chris Passafume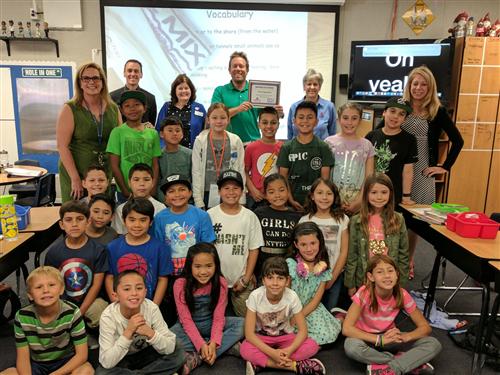 Teachers are Heroes is a popular recognition program that highlights one school teacher each month who has gone above and beyond his or her job description.
Mr. Chris Passafume, a 3rd grade teacher at Monte Vista Elementary School, received the award from Karan McGlynn, KATY – 101.3 The Mix (KATY) and Azusa Pacific University (APU) School of Education faculty Dr. Kathleen Bautista and Dr. Richard Barsh, and APU program representative Rachel Jacobs on Tuesday, March 7, 2017.
Monte Vista Elementary School Principal, Pamela Picchiottino, joined Passafume and his students at the Teachers are Heroes presentation and also enjoyed a pizza party celebration provided by The Pizza Factory in Temecula.
Passafume is a devoted teacher truly worthy of this recognition. He has a zeal for teaching and it is quite evident that his students really like him! Dave Morrison nominated him and said, "Mr. Passafume offers leadership opportunities to his students and instilled the school pillars for character development. He also makes learning fun and easy while sharing technology. He has taught 3 of my 4 children."
Passafume has been teaching for 12 years at Monte Vista Elementary School. For 11 years he taught 5th grade. This is his first year teaching 3rd grade and he really enjoys this grade level!
Mr. Passafume received his Master's in Educational Technology and Learning degree from APU and said he uses these tools in his classroom all the time. His mother is a retired teacher and his sister is an Assistant Principal, so education obviously runs in his family!
The Teachers are Heroes program will run through April 2017. All selected teachers and their classes will attend a private celebration at the end of the year at the Lake Elsinore Storm Stadium. Teachers can be nominated by students, parents, and even other school administrators. For more information go to www.1013themix.com, keyword: Teachers or go to http://www.apu.edu/murrieta/teachers/