2018 Students of the Year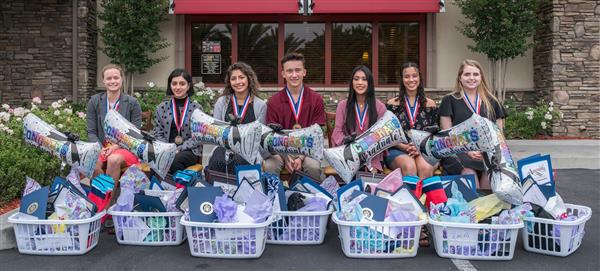 The Murrieta Valley Chamber of Commerce High School Student of the Year Recognition Program was held on Thursday, May 24, 2018.
The students and their families attended a breakfast sponsored by numerous local businesses. Principals and students shared stories and each Student of the Year received a $2,535 college scholarship along with numerous gift certificates from community businesses, certificates of recognition, congratulations and encouragement from local, county, state and federal dignitaries.
Sitting left to right: Erika Moe, Anisa Fontes, Sarah Thompson, Zachary Thomas, Sirenmarie Cruz, Danielle Shores, Christine Longenecker.
Photo credit: jimmyfu-tography.com Click here to see the pictures Click here to view a video.
Murrieta Mesa Senior Sarah Thompson is an incredible student who maintained a 4.0 GPA. She served as the president of the Class of 2018 for four years. Sarah was a four-year member of the soccer team and a kicker for the football team for two years. She also found the time to volunteer at Loma Linda University Medical Center. Sarah will attend UCR where she plans to major in Biomedical Engineering because she has seen the power of medicine and wants to help other people who have health challenges.
Murrieta Valley High School Senior Erika Moe is an IB Diploma student who maintains a 4.5 GPA and is fifth in her class of 581. Erika is passionate about the Spanish people, culture and language. She took four years of Spanish including AP and IB Spanish and she taught Spanish to 4th and 5th graders at Cole Canyon Elementary. Erika is a member of California Scholarship Federation and National Honor Society. She will attend the University of California at Irvine and she will be in the College of Humanities Honors program.
Springs Charter School Senior Zachary Thomas is an exemplary student who maintains straight A's. Working as a volunteer for the City of Menifee's youth advisory board led to his employment by the City of Menifee. While completing his last year of high school, Zach took seven dual-enrollment classes at Mt. San Jacinto College. Zach plans to transfer to Cal Baptist University from Mt. San Jacinto Community College and he plans to major in business and marketing.
Murrieta Canyon Academy Senior Sirenamarie Cruz was co-enrolled at Murrieta Mesa where she was in the medical pathway. Sirenamarie pushed herself to be successful in spite of her health challenges. She learned to persevere and replace negativity with positivity. Sirenamarie will attend San Francisco State University as a biology major. She is interested in going into biomedical science and she would like to work at a VA hospital.
Oak Grove Senior Anisa Fontes is artistic, compassionate, kind, a positive mentor and role model. She tutors other students two hours a day and loves making a positive impact on children's lives. She especially enjoys working with students in the school's autism program and she wants to be a special education teacher. Anisa plans to go to Mt. San Jacinto College and then transfer to Cal State San Marcos.
Calvary Christian High School Senior Christine Longenecker is a quiet leader who is a straight A student. She is passionate about helping others and believes in showing kindness to the ones who need it the most. Her first trip to the Ukraine was a transformational experience in her life. Christine will make her second trip to the Ukraine on a mission trip this summer where she will work at a summer camp for orphans. Christine will attend Southern Utah University and major in agriculture and minor in journalism.
Vista Murrieta High School Student Danielle Shores is an AP Scholar and she has a 4.3 GPA. She has been involved in ASB and on the cheer team four years. She was also on the swim team and the principal's advisory committee. Danielle said when she went to HOBY, she participated in leadership training, service-learning and motivational experiences and while there, she decided that she wants to dedicate her life to serving others. Danielle plans to go to Occidental College as a Biology/Pre-Med major. Her goal is to become an emergency medical physician, possibly in a third world country.