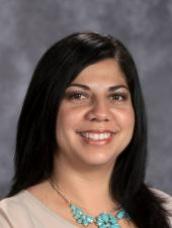 Phone: 951-696-1405
Email:
Degrees and Certifications:
Pam Guzman

Welcome to 5th grade!

I am thrilled to be a part of the E. Hale Curran staff! I am looking forward to working with you and your child this year!

Our school uses the PBIS (Positive Behavioral Interventions & Supports) Program. It is intended to promote positive behavioral support for all students.
In our classroom we monitor behavior with Class Dojo. It's a great way for students to earn points for positive behavior! However, students can also get points taken away but have the opportunity to earn them back. They can redeem points at the end of the month for special prizes. Points are reset monthly for fresh starts.
You are able to access the website or free app and track your child's progress throughout the day. I will be sending out group and/or individual messages when needed. I look forward to working with you on this journey to promote and maintain a positive and encouraging learning environment.
I will also post pictures and videos of events that happen during the day for you to enjoy!
This app will be the MAIN communication tool I'll be using this year. It's fast and easy!
"Don't judge me by my successes, judge me by how many times I fell down and got back up again" –Nelson Mandela