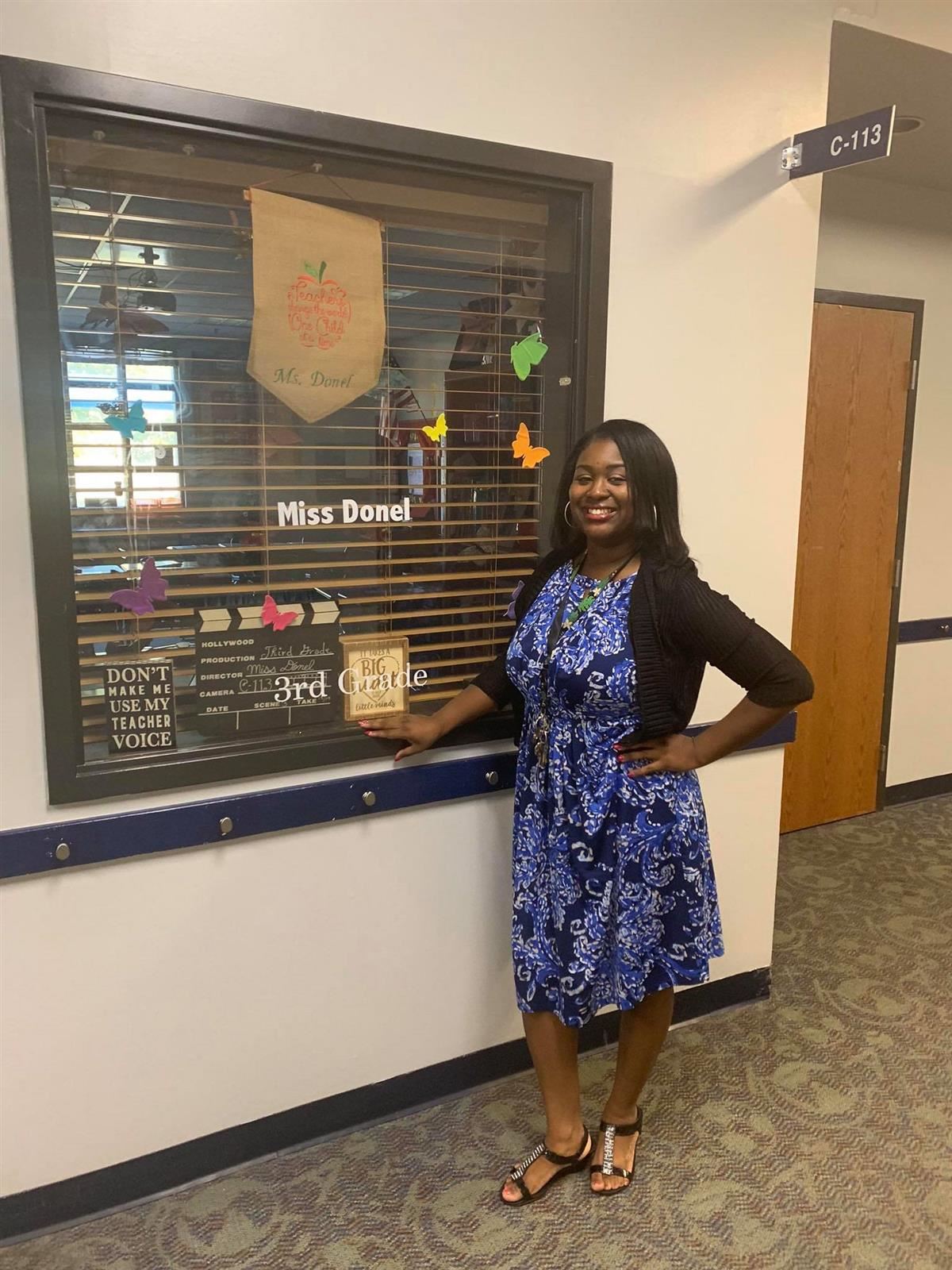 Phone: (951) 696-1405 ext 2204
Email:
Degrees and Certifications:
Bachelor of Arts in Liberal Studies with a concentration in Human Development and Early Childhood Studies Master of Arts in Education and Teaching Master of Arts in Educational Technology Multiple Subject Teaching Credential
Ms.

Donel
Welcome to First Grade
Hello Cougar families and students,
My name is Ms. Donel, and I will be your first-grade teacher for the 2022/2023 school year. I have my Bachelors of Arts in Liberal Studies from California Baptist University (whoo hoo, Go Lancers!) and I have a double Masters in Education and Educational Technology with a Multiple Subject Credential from Azusa Pacific University. (yay, Cougars)
I have a witty, adorable, and loving son named Lamar. I am one of five children and the loving aunt to five nieces and four nephews! It is a blessing to be a part of a large and loving family!
My life is filled with so many adventurous and creative aspirations. I have been zip lining twice! Yes, it was fun, and I would totally do it again! I love to sing, dance, and draw. I am a big fan of the arts! I also enjoy scrapbooking, and I adore butterflies. Your children will come home talking about them all the time, and you will see hints of butterflies all over my classroom. I love all things Disney! Disneyland is my favorite place to visit! I would probably live there if it were allowed. My favorite color is purple, and I love Mexican and Italian food! Yum! I am an alumnus of the Murrieta Valley Unified School District and a former student of E.Hale Curran. I am excited to be able to return and teach at one of my favorite elementary schools. I am proud to be a teacher, parent, and former student in this district.
This is my seventh year teaching! I am looking forward to spending so much time with my Fabulous Firsties and building memories with them. This will be their first year on the big kid side of the school. I know they are excited, and I am just as excited as them. During first grade, the children grow tremendously, and it is fun to watch them blossom into little scholars and explorers. They will engage with new concepts that will require them to learn to read, grow their number sense, develop higher-level thinking, cultivate their speaking and listening skills, encourage their creativity, and develop the ability to collaborate with peers. You will be amazed at their personal and socio-emotional growth by the end of the school year.
I can't wait to take your child on this journey, and I am looking forward to watching each child succeed! Well, are you ready for the new year? Good! Because...It's Showtime! Welcome to First Grade!
Warm Regards,
​Ms. Donel