Bus Pass Information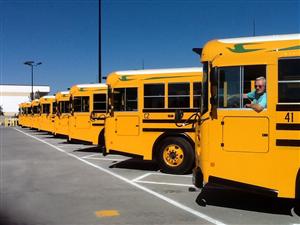 Thank you for your interest in the District busing program. We look forward to another safe year of service to your student. Each bus rider must be registered annually for a bus pass and carry their pass with them every day.
Bus Pass Registration
Registration for bus passes takes place at the District Support Center in the Transportation Department Monday - Friday from 7:30 to 11:30 am and 1:00-4:00 pm.
Register & Pay Online!
Skip the trip to the District Support Center and register and pay for a bus pass online at
mySchoolBucks
where you can create an account for your child and select their transportation route. After you create an account and select a route, you will receive an email confirming that bus pass registration is complete. Your child will get their bus pass from the bus driver on their first day of school.
4.25% convenience fee is charged at the time of the transaction
Registration in person is required to receive fee assistance
To Register in Person You Will Need
Completed registration form
Cash, credit card (3.95% convenience fee applies), check, or money order payable to MVUSD. A $25.00 fee will be charged for any returned check.
Students of families who meet the guidelines for free or reduced meals may also be eligible to receive free or reduced transportation service. At the time you register for a bus pass, you will need to complete an application for transportation fee assistance (Income Disclosure Form) and present proof of 30 days of consecutive income. Income proof must show the name of the individual who received it and the source of the income. Please refer to the Proof of Income-Fee Assistance Checklist

Bus Pass Fees

Call for current prices. The prices listed below are for a full school year.
Annual Bus Pass

One-Way Pass

1st child: $395.00

1st child: $200.00

2nd child: $365.00

2nd child: $185.00

3rd & additional child: $335.00

3rd & additional child: $170.00

No family shall pay more than $1095.00 for any combination of Annual Pass
Reduced Bus Pass Fees for Qualified Families
Annual Bus Pass

One-Way Pass

1st child: $135.00

1st child: $70.00

2nd child: $125.00

2nd child: $65.00

3rd & additional child: $115.00

3rd & additional child: $55.00

No family shall pay more than $345.00 for any combination of Annual Passe


Payment Plans
There will be an additional $10 handling charge per family for this service
A $25.00 fee will be charged for any returned check
The first payment is due at the time of registration and subsequent payments are due each month by the 1st
For those signing up for transportation mid-year, payment plans are not available after November
Payment plans not current from the prior school year will prohibit current year bus pass registration
Bus passes may be rescinded for non-payment
Bus Pass Replacement
A replacement fee of $10.00 will be charged for all lost, stolen, defaced, mutilated passes or for a change of parent/guardian.
Route-Bus Pass Changes
You cannot change from one bus pass type to another, change stops or stop payment for any reason without first contacting the Transportation Office or you will be responsible for all additional charges.
Intra-District Transfers
Transportation is not available for students who have an intra-district transfer.
Refunds
Refunds are processed for the current school year and will be processed when bus pass is surrendered to the transportation department. All refunds will incur a $15.00 handling fee per family.