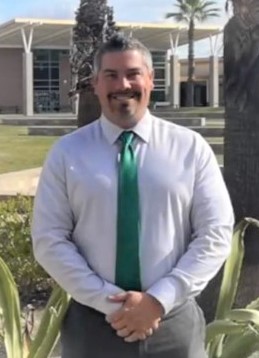 Principal - Scott Richards Jr. is the Principal at Murrieta Mesa High School. He has over 19 years of experience as an educator and has had the privilege to work at all three comprehensive high schools at MVUSD. Mr. Richards came to the district in 2003 as a teacher and a girls basketball coach at Murrieta Valley High School. During his tenure, he taught CP Biology, Life Science, Marine Biology, AVID 9, and AVID 11, while also coaching the girls' basketball team. In 2013, his team won the CIF-SS Division 2A CIF championship. In 2015, Mr. Richards became an Assistant Principal at Thompson Middle School where he served for two and a half years before transferring to Murrieta Mesa in November of 2017 as their Assistant Principal. During the two and half years of tenure at Mesa, Mr. Richards earned the district's 2019 Assistant Principal of the Year award. In the summer of 2020, Mr. Richards was transferred to Vista Murrieta High School where he served one and a half years. During this time, he was promoted to Deputy Principal before returning to Murrieta Mesa as their principal on January 1st, 2022. Mr. Richards holds a BS in Mammalian Physiology and Neurological Science from University of California, San Diego, an MA in Education from Concordia University, as well as a Tier II Administrative Services Credential.
John Broussard

John Broussard received his Bachelor's degree from Linfield College in Oregon, where he also played on the basketball team. Broussard earned a M.Ed. in Curriculum and Instruction from the University of Phoenix. He taught in Rialto Unified School District and served as Athletic Director at Kotlik High School (AK) where he coached Varsity Basketball and was named coach of the year in 2005. He also coached Volleyball, and Cross-Country. Broussard holds an Administrative Services Credential, California and Alaska Teaching Credentials and an Alaska State High School Coaching Certification. Broussard moved to the area in 2009 and spent 7 years at Linfield Christian in Temecula. Broussard joined the MVUSD School District in 2009 as an Athletic Director before being promoted to Assistant Principal. He now serves in both roles.

Mrs. Butler joined the Murrieta Mesa family in November 2021. Prior to joining the team, she worked in public education 15 years in Riverside Unified. Mrs. Butler earned two degrees from University of California, Riverside; she holds a bachelor's degree in Mathematics and a master's degree in Education. She began her career as a math teacher in Riverside. In 2013, Theresa continued to grow professionally by being selected to serve as the Instructional Services Specialist for Secondary Mathematics for Riverside Unified School District. In 2017, Mrs. Butler moved to Riverside Poly High School to serve as an assistant principal where she led attendance initiatives, testing, master schedule, and curriculum and instruction.

Mrs. Butler is married to an educator and has 3 young children. She lives in Murrieta, and her two oldest children attend a Murrieta Valley elementary school.

Mrs. Lorie Coleman is an Assistant Principal at Murrieta Mesa High School. She is a graduate from Oregon State University, earning her bachelor's degree in 1986. She earned her master's degree from the University of LaVerne. She has worked in MVUSD since 2001, where she has been the coordinator of special education and an assistant principal. She was named Assistant Principal of the year for MVUSD in 2015. She is beginning her 37th year in education and is excited about this year.

Mrs. Kait Punzel is the most recent addition to the MMHS administrative team. She holds a Bachelor of Science in Mathematics as well as a Master of Arts in Educational Leadership; both from Point Loma Nazarene University. Prior to Murrieta Mesa, Mrs. Punzel was an Assistant Principal at Dorothy McElhinney Middle School for seven years, and the Director of Academics at Temecula Preparatory School for three years. Before entering administration, Mrs. Punzel taught everything from Algebra 1 to AP Calculus and served as the department chair as well as the girls varsity basketball coach. She is also involved in community theater and is an advocate for arts education. Mrs. Punzel earned the district's Assistant Principal of the Year award in 2021 and has also served on the district's educational technology team. During her free time, Mrs. Punzel enjoys watching her three children play sports, dance, and perform on stage. This is Mrs. Punzel's 15th year in education, and she looks forward to an incredible year with Mesa!
Last Modified on August 16, 2023