Board appoints Linda Lunn as Trustee
Board appoints Linda Lunn as Trustee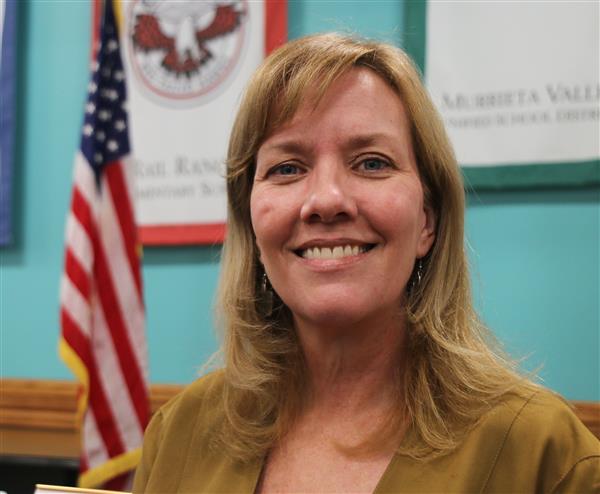 On August 24, 2017, the District's Governing Board of Education provisionally appointed Linda Lunn to serve as Trustee, filling the vacancy created by the July 5, 2017, resignation of Barbara Muir. Muir passed away on July 29, 2017. Lunn's term will expire in November 2018. At that time, Lunn can seek election to fill the remainder of Muir's term through November 2020.
The district interviewed 14 qualified candidates on August 22 and August 24. At the conclusion of the interviews on August 24, Trustees identified their top candidates and Kris Thomasian made a motion to appoint Lunn which was seconded by Diffley and unanimously approved by the Trustees. Crist said, "As a volunteer with PTA and President of Council PTA, Linda has been so important in improving parent engagement and involvement in our district and the learning curve for her will be narrow because she is so familiar with the district."
Board President Robin Crist told the candidates, "The caliber of all the candidates has been very impressive and your willingness to serve our district speaks volumes." Each of the Trustees said they were impressed with the candidates' recommendations, experience and professional expertise and they thanked them for their willingness to serve on the Board. Paul Diffley said, "All the candidates are passionate about public education and we would be in good hands with any of them."
Following her appointment, Lunn said, "This is a huge honor for me and I am committed to give 100% toward working to ensure students' academic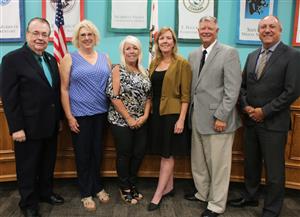 achievement during their time in the district and as they head out into their adult future."
Lunn has two children who attend Dorothy McElhinney Middle School. She served as Council PTA Parliamentarian and President from 2013 to 2017. Prior to that, she served on Lisa J. Mails PTA as volunteer coordinator, secretary and as president "After serving our schools for eight years as a parent volunteer," Lunn said, "I am excited to continue my service to the MVUSD community as a trustee of the Board of Education. I am committed to putting student learning and achievement first as we, the stakeholders, work together to prepare our children to enter the adult world. Every year that I have volunteered within MVUSD, I've taken on greater responsibility and commitment and each year has brought me greater joy. My heart is here in Murrieta with the children of MVUSD, I am honored to be able to work for them."
Lunn holds a Bachelor of Science degree from Colorado State University. A Public Notice has been posted notifying the voters that unless a petition calling for a special election pursuant to Ed. Code 5091 is filed in the office of the County Superintendent of Schools within 30 days of the provisional appointment, it shall become an effective appointment. Notwithstanding the right of the public to petition for a special election, all powers and duties of a governing board member begin once the appointment is made and Lunn will take the oath of office at the September 13 Board meeting.