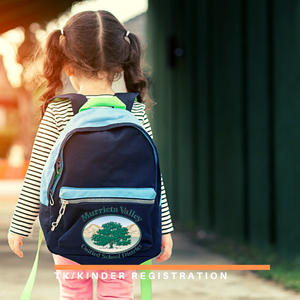 New Students

New student enrollment for the 2022/2023 school year is available online. Please complete the pre-online enrollment through the Aeries Parent Portal.

Not sure which school is zoned for your neighborhood? Find your school on the School Locator map.

Incoming new transitional kindergarten (TK) and kindergarten (K) families must submit a pre-enrollment form online.Online registration and appointments open on March 7, 2022. Once the pre-enrollment is completed online, an enrollment specialist will reach out via email to complete the registration electronically. All records listed below must be electronically submitted to complete the kindergarten registration.
You will be asked for the following items at the time of registration:

Completed online pre-enrollment information and forms.
Evidence of birth date: Birth certificate, Baptismal certificate, Passport, Adoption/Foster Care Record, Hospital Birth Record, Affidavit of Parent/Guardian
Kindergarten Continuance form - This form must be completed for all TK enrollments.
The Report of Health Examination for School Entry - For entry to kindergarten and first grade, this form must be signed and dated by the doctor performing the physical. The physical exam may have been completed up to a maximum of six months prior to entry into kindergarten or first grade, (if not previously enrolled in kindergarten).

Parent/guardians are required to submit either proof of a physical exam or waiver for kinder enrollment (see below for explanation).

Board Policy 5141.32: The parent/guardian of a student enrolling in kindergarten shall submit a certification form (physical exam form) signed by the student's health examiner certifying that the student has completed a comprehensive health screening within 18 months prior to entry into first grade or within 90 days thereafter. (Health and Safety Code 124040, 124085)

If your physician's office charges a fee to complete 'outside' forms, proof of the exam can be submitted on the physician's form.

In lieu of the certification, the parent/guardian may submit a waiver indicating that he/she does not want or is unable to obtain a health screening. If the waiver indicates that the parent/guardian was unable to obtain the services, the reasons should be included in the waiver. (Health and Safety Code 124085) Please email the school site administration for a waiver.

Low income families may contact the Child Health and Disability Prevention Program for more information on assistance with getting a health exam for their future kindergarten student.

7. Proof of Dental Assessment - Students enrolling in kindergarten/TK (or first grade, if not previously enrolled in kindergarten), shall present proof of having received an oral health assessment by a licensed dentist or other licensed or registered dental health professional, that was performed no earlier than 12 months before the date of first enrollment.

Parents may be excused from complying with this requirement by indicating on the form that the oral assessment could not be completed because of one or more reasons provided on the form.

Oral health is important because if a child has poor dental health, it could impact their overall health. Baby teeth are very important to your child's health and development. Tooth decay is an infection that does not heal and if not treated, could permanently damage their adult teeth, or cause other serious health concerns. Children must be healthy to learn, and if children have cavities it can impact their health. Regular check-ups can prevent tooth decay or other problems. For more information, contact your dentist or State of California Medi-Cal Dental page.
Last Modified on June 21, 2022