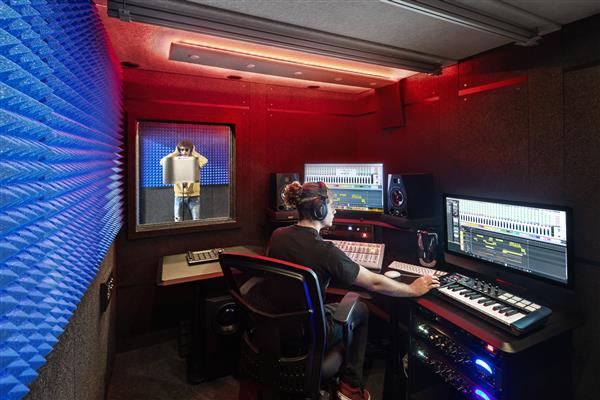 Phone: 951-894-5750 x.6721
Email:
Degrees and Certifications:
Michael Ruiz
Welcome to CTE AUDIO TECHNOLOGY
Mr. Ruiz
Room: M111
Course: 7938
Please check this site often for important information regarding classroom communication, projects, upcoming tests, project due dates, student / parent registration information and necessary forms to download, print, sign and return to the teacher.
Early On In Life

I was born in 1980 to a family of musicians. That is when it all began. Growing up in Rubidoux I found myself early on being immersed in a life of music. I began playing the sax at age 10. I decided at age 13 that I wanted to play the trumpet instead. By the time I was at 16, I found myself as the principle trumpet player for a band that represented the United States celebrating Austria's Millennium. I was hooked.

Young Adult

After many years of being trained as a classical musician, I hit the stage as a trumpet player for a regionally recognized party band as well as taking up what would later be my career as an audio engineer. Up until I turned 21, I had the distinct pleasure of performing with or engineering audio for many local, national and international recording artist.

Working Life & Teaching

After many years of working on stage, I took a leave of absence. I had to come to a realization that I needed a change in careers with a little bit more stability in my income. I spent nearly 6 years as a chemical handler for a large corporation. It was a fun job. I had opportunities to train with military personnel, fire and safety personnel, handling chemical spills and hazardous fertilizer containment.
I came back to the stage 5 years later to be the Theater Engineer for the new theater at Vista Murrieta. After a year of being the theater engineer, I decided to look into teaching and became the part time Stagecraft and later Audio Technology Teacher. I completed my education coursework at Cal State San Bernardino and hold multiple teaching credentials. I am now going into year 10 working at Vista Murrieta.

At Home

I am married to my wonderful wife Diana for 5 years. We have just celebrated the 1 year birthday to our first son Noah. They are the reason for my existence day after day. I do not take for granted one moment I have with my family because I know that one day things may not be the same. Family is the most important thing in my life. There is nothing greater to me then seeing the smile on my son or my wife. I have 2 older brothers and 3 younger sisters.
Last Modified on August 29, 2022