Return to Headlines
School Safety is a Partnership
At Murrieta Valley Unified we are very proactive about school safety. We partner with Murrieta Police Department to ensure we have safe campuses and their officers are highly trained to handle any crisis. We have prevention and response strategies in place for situations and we have multiple methods to ensure effective communication during an emergency.
There are six police officers assigned to our schools on a full time basis including one sergeant and one corporal. In addition, Murrieta Police and surrounding local law enforcement agencies train and plan for school emergencies.
MVUSD, with the assistance of our safety partners have conducted comprehensive school safety audits at each of our schools to identify entry and exit points and mitigate vulnerable aspects of our school's physical layout. Fire protection and law enforcement are intimately familiar with the layouts of our schools. Each school has its own emergency plan that acts as a guide before, during and after an emergency situation. Our schools conduct safety drills for a variety of situations including active shooter scenarios. Furthermore, each school is equipped with the Raptor Technolgies, Visitor Management Sysytems. The systems creen and track everyone coming into your schools and keep unwanted entrants out. The Raptor® Visitor Management school security system screens for sex offenders, alerts staff of custody violations, and provides districtwide reporting for all visitors.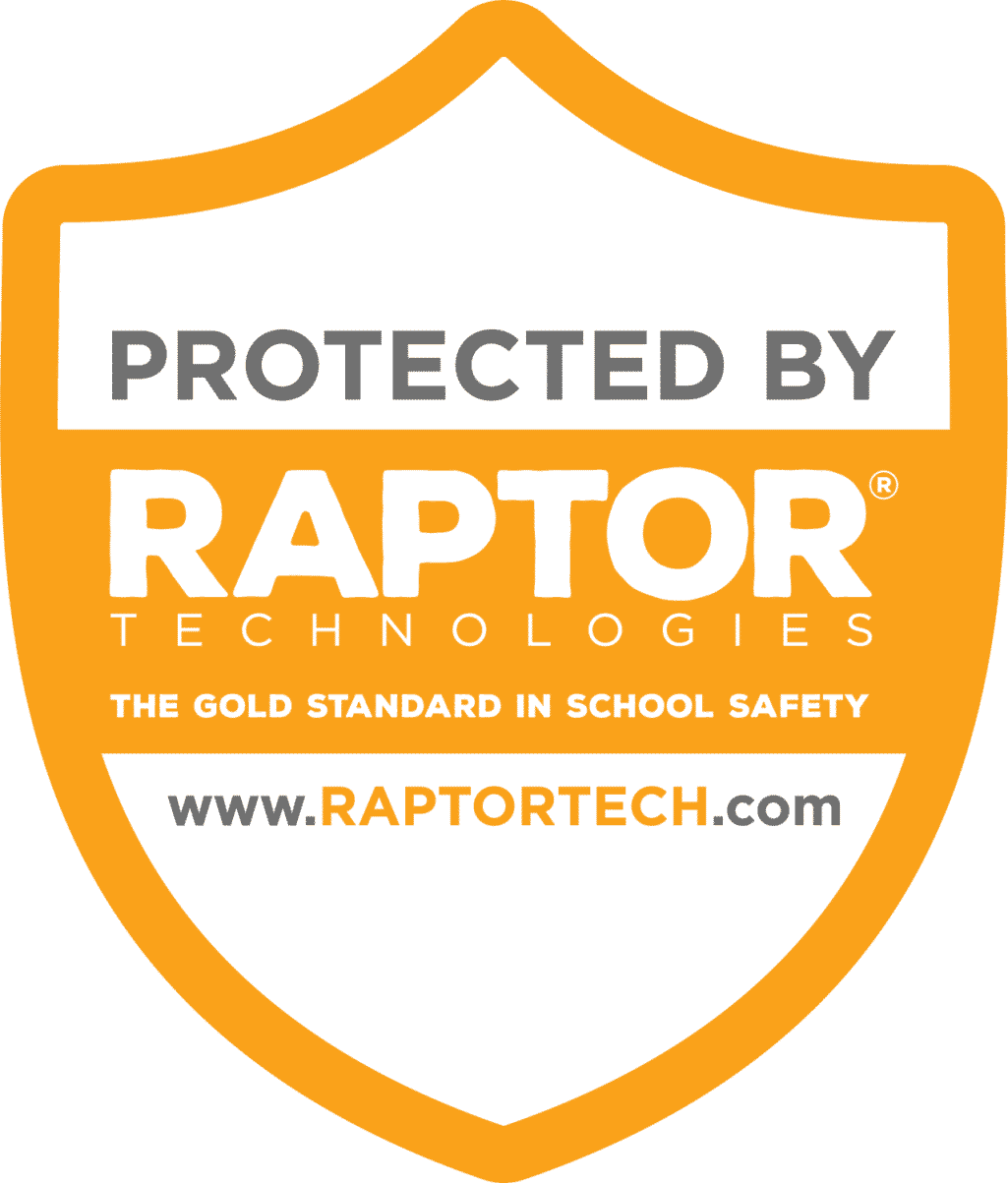 The best prevention strategy is for students, staff and parents to report any suspicious behaviors or potential safety concerns or anything they see or hear about anyone who may have the intent or potential to harm themselves or others. Murrieta Police Department's 24-hour dispatch line at (951) 696-3615, the Tip Line on the Murrieta Valley USD mobile app, or by making an anonymous tip through our website, are the best ways parents and students can partner with us in keeping one another safe.
We rely heavily on the efforts of parents and guardians to provide guidance and support for students at home and to reinforce the fact that schools are safe places for children to be. We also ask that parents and guardians maintain open lines of communication where students feel safe to report suspicious activity; and know that joking about school violence or threats at school or to their friends is not okay and may be a criminal offense.
There is information on our website about what parents can expect in a school emergency along with information about safety measures in place at district schools.
There are multiple ways to report suspicious or illegal behavior or safety concerns:
Talk to a teacher or school administrator immediately
Call Murrieta Police Department's 24-hour dispatch (951) 696-3615
Use the Tip Line on the Murrieta Valley USD mobile app
Additionally, each school has a parent handbook and high schools have student handbooks with information on policies and expectations for our students. Please review your schools handbook for more safe information.
Large Banners and posters are placed at every school as a visual reminder for parents and students at every school site: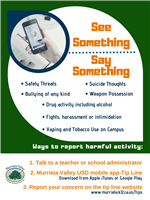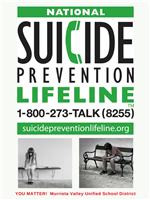 Thank you for being partners with us in our ongoing efforts to keep our schools safe havens for learning.