2014 BTSA Induction Colloquium
Posted by Sean McCarthy on 5/22/2014
On Wednesday, May 21, 2014, the Murrieta Valley USD BTSA Induction Program held its annual Colloquium, celebrating and sharing the professional learning experiences of its candidates. There was a packed house on hand for the event, which included MVUSD School Board member Ken Dickson, district administrators, site administrators, support providers, and, of course, year 1 and 2 induction candidates.
Following "breaking news" about the program's recent accreditation approval by the CCTC's Commission on Accreditation, MVUSD Superintendent Patrick Kelley gave the opening address, setting the tone for the event around student learning and engagement. Program director Sean McCarthy then explored the theme of the program, Growth Mindsets, based on the book Mindsets: The New Psychology of Success, by Stanford University researcher Carol Dweck. Promoting a growth mindset is a new district initiative, and attendees were introduced to the concept, including the "power of yet" through a video introduction by Dweck. Executive Director of Elementary Instruction Char Gollogly shared research from the University of Texas on how teaching students about growth mindsets impacted the success of college freshman as validation of the importance of this initiative. Participants then shared their own experiences where growth mindsets or fixed mindsets impacted student learning.
After this table share, Guy Romero, Assistant Superintendent of Educational Services, shared some thoughts about the importance of "being a contributor" when it comes to student and professional learning. Zhanna Preston, Executive Director of Special Education, talked about the importance of adapting instruction to individualize student learning, and thanked Education Specialists, both support providers and candidates, for all they did to support students with learning disabilities. The director of the National University National Board Leadership Center, one of our programs partners from the world of higher education, then provided some words of inspiration to encourage candidates to continue on the pathway to ongoing professional learning.
Following these presentations, we then turned toward the main event of the Colloquium, the table talk. Each candidate had an opportunity to share, with their table group, the following about their professional learning during induction:
What they learned about themselves as teachers
What they learned about their students
The piece of evidence that best illustrates a change in their teaching
What they will investigate or focus on in the next year
The candidates shared, fielded questions about their learning, and were cheered by their table groups for their accomplishments.
After the table talk, various stakeholder groups were recognized for their contributions to the program, including the BTSA Advisory members, the Induction Leadership Team, and our Support Providers. Special recognition was given to Advisory members Denise Ciauri and Krista Giordano who are leaving the committee in order to join the program as support providers, and to leadership team member Jacelyn Carrilo, who is taking a year-long leave of absence from leadership and support provider work to have her first child. Congratulations Jacelyn!
Certificated Analyst Keri Baldridge then provided one last important bit of information for candidates, connecting to the program's theme by reminding them that they did not have their clear credentials yet! She explained the process for completing the necessary final steps to fully clear their credentials through the CCTC.
We then celebrated and recognized our first year candidates who were promoting to year 2 candidacy, followed by our featured group, our year 2 candidates who completed their induction requirements and are being recommended for their clear credential: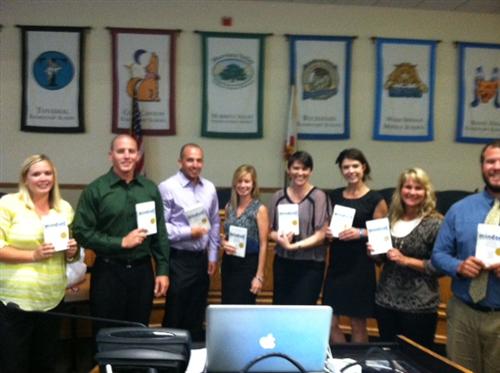 Please see the full photo album of the event on Flickr
HERE
.