All New Name, Same Great Program!
Posted by Sean McCarthy on 9/25/2014
Remember BTSA? Well, that acronym no longer applies—we are now officially the MVUSD Teacher Induction Program (TIP). Though our name is different, we will still be providing the same high-quality programs and services to our district teachers who are clearing general education or education specialist credentials. It is this high quality service that helped our program earn a full 7-year accreditation term following last year's site visit from the California Commission on Teacher Credentialing.
In addition to the new name, we've also been going through some other important changes. We have held not one…not two…but three induction orientation sessions as our district continues to hire new teachers. As a result, we have more than doubled in size, from 19 candidates last year to 40 in 2014-2015. While we welcome this growth, it presents challenges in order to continue to provide the excellent induction experience we expect. Fortunately, in anticipation of this growth, we expanded both our Teacher Induction Leadership Team (TILT) and our pool of Support Providers (SPs).
Our TILT members are tasked with facilitating the day-to-day operations of the program. In addition to supporting their own candidates, they provide direct assistance and resources to the SPs in their area (see Tree Map below) and the candidates they serve. As you can see from the Tree Map below, our TILT is organized by grade level and/or subject area, as well as credential type: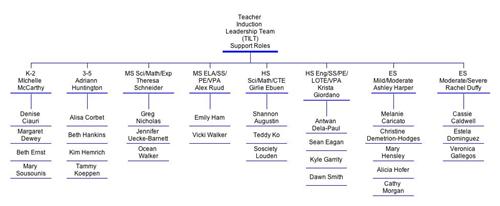 The expansion of the TILT has been critical in helping maintain our high standards through this growth process.
While we anticipated growth of the program as a result of new hiring, we were surprised by the high number of new K-5 teachers who have joined the district., and the overall expansion at other grade levels and subject areas.
Our program places emphasis on having TILE members make frequent visits to candidate classrooms.
Our walkthrough expectations allow for this, and the Tree Map below illustrates the walkthrough assignments and the growth we have experienced across the board: