2017 Induction Colloquium
Posted by Sean McCarthy on 6/6/2017
On Wednesday, May 17, the Murrieta Valley Induction Program held its annual Colloquium, celebrating and sharing the accomplishments of its 26 promoting candidates.
The event began with the digital portfolio sharing, which provided attendees an opportunity to view and leave feedback on our candidates' induction portfolios. Following this, the formal presentation began, which included a variety of speakers, along with a video address by Superintendent Pat Kelley, and inspirational messages from MTA President Tom Kuzma, Assistant Superintendent of Human Resources Darren Daniel, Director of Human Resources Leigh Lockwood, Assistant Superintendent of Educational Services Pam Wilson, and Director of Special Education Zhanna Preston.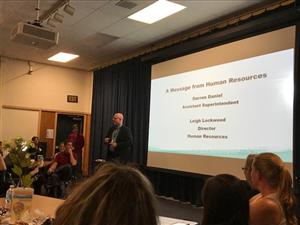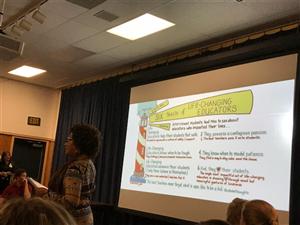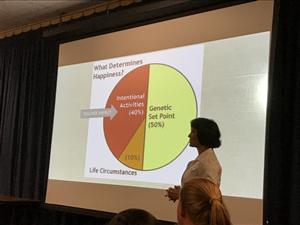 We then had an opportunity to hear from two of our candidates, Kelly Knoll from Lisa J. Mails, and Danica Rosendale from Avaxat. Kelly, who came to us this year from another district, shared about the differences between our induction program and the one she experienced previously, and how much she was able to grow in her learning this year as a result. Danica shared about the power of the lesson study component that we incorporated into the inquiry component of the induction program. After they spoke, their mentor, Mary Eskridge from Lisa J. Mails, shared how much she has learned herself from her experience as a mentor teacher by working with these two amazing candidates.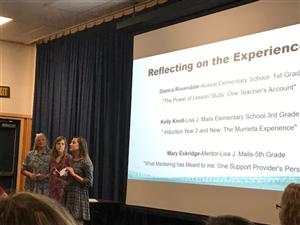 After the speaker portion, we moved into the centerpiece of the Colloquium, which is the Table Talk, where each candidate shares their primary professional learning from their induction experience. During this part of the program, each candidate has an opportunity to share four elements of their journey:
What they learned about themselves as teachers
What they learned about their students
The piece of evidence that best illustrates a change in their teaching practices
What they will investigate or focus on in the next year to continue their professional growth
This is always a powerful part of the program that never fails to prove inspirational!
Following the Table Talk, we turned our focus to celebrating our candidates' accomplishments. After thanking all those who helped them complete their journey, including mentors, program leadership, and advisory team members, it was time for candidates to receive their certificates of completion. As you can see from the slideshow below, it is truly a joyful occasion when these hard working teachers complete this challenge and have finished their teacher preparation journey. They left with smiles on their faces, copies of Mindsets in the Classroom: Building a Growth Mindset Learning Community book, and other goodies!