Mentoring Matters for February 2020
Posted by Sean McCarthy on 2/13/2020
Happy Thursday—Enjoy the Long Weekend!
Induction Progress Reports
Please be on the lookout for Induction Program Progress Reports, which will be emailed to you from Erica Franklin in the coming weeks. These reports are designed to keep you informed about candidate participation only—there will be no information shared about teaching performance. They will include an update on:
Individual Learning Plans

Fall Mini-Inquiry Completion
Collaboration Hours

Attendance
These are designed to help assure you that your new teachers are on track to complete credential requirements, and are part of our Induction Standards that keep us partnered with you in the induction process.
Spring Professional Development
We typically share our workshop opportunities as part of our monthly newsletter, but due to some unforeseen circumstances, we will not be offering our planned modules this semester. However, Sue and Sean are available to come to sites to offer any of the previously planned topics during your staff development sessions or to grade level teams/departments during PLCs upon request. For example, we have been out to sites to offer everything from Thinking Maps to Universal Design for Learning. We can also provide topics such as Teach Like a Champion, Creating Effective Learning Environments/Managing Behaviors, Engaging Families, Mindfulness, and much more. Contact Sean or Sue to discuss possible training options and check on availability.
Induction Data
We recently conducted our Mid-Year Candidate Survey and are vey pleased with the results. Based on the feedback, it's clear that despite the size of our program, candidates are feeling very well supported by their mentors. Our focus on ensuring mentors and candidates are meeting collaboration hour targets is clearly having an impact, as is our training on cognitive coaching and supporting the inquiry process.
One area that we will need to continue to work on is mentor-candidate match ups by site as well as by subject-area and grade level. As we shared during our site visits, this will require us to continue to recruit new mentors to increase availability at sites so that we can better match new candidates. We had too many cases where lack of mentor availability meant matching candidates to mentors from other sites and outside of their subject area or grade level. While feedback was typically still positive in terms of the quality of the mentoring such candidates received, they frequently expressed a desire to have an onsite mentor at their grade level or subject area who could provide more subject-/content-specific support.
Below are some highlights from the survey results: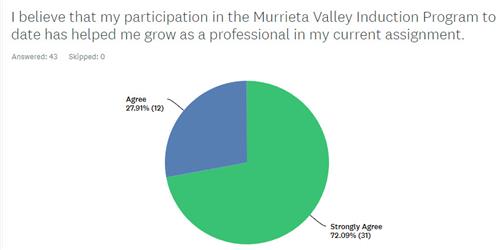 "MVUSD and the Induction program do an amazing job of supporting teachers. I have never seen so many resources available in such a wide variety."
"After completing an Induction Program outside of this district (through Riverside County), I was very impressed at how everything is put together here. It wasn't the "busy work" I had experienced previously. It has been meaningful, purposeful and relevant to my current assignment."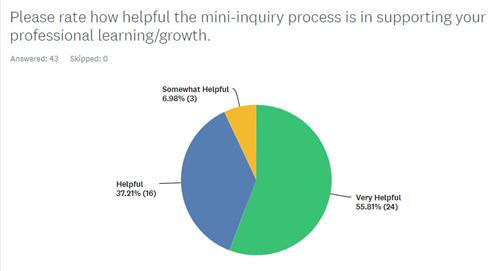 "The mini-inquiries are perfect because they allow me to see how I teach on camera and I receive immediate feedback from my mentor to improve right away."
"I thought I knew exactly what I wanted to do with my small group instruction, but after collaborating with my mentor, watching videos, observing colleagues, and going to trainings, I have tried a lot of different methods in my small group instruction. It has been very insightful."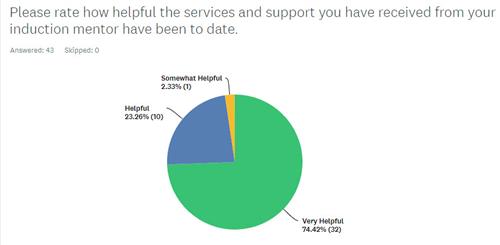 "My mentor is truly a gift. Getting to share my struggles and receive advice for relevant issues is amazing."
"Having an induction mentor that I'm fortunate enough to work so closely with has been the best part of the services and support that I have received. She has always been there for me and I feel so grateful to have her expertise, support and simply just a person to talk to at times."
"There are too many benefits to list them all here (guidance, support, etc.). If I had to pick the most important for me, it would simply be just having someone there for me. Last year, in my previous school, I felt like I was on an island. I don't feel that way here."
Support Stats
As you may have noticed, our program has grown! Here are the current numbers:
Mentors: 71
Year 1 Induction Candidates: 33
Year 2 Induction Candidates: 27
New Hire Candidates: 47
Intern Candidates (Including STSP & PIP): 17
TPSL (Long-Term Subs): 8
Thank you for your support—enjoy the weekend